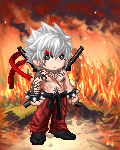 Kunefuma Yatayo is a minor antagonist in the anime, Dragon Tidal. He is a second year student enrolled in Azura Academy. He works under Ozuku Kimano, led by Tanzami Yoto.
Debut
Anime
DT Episode #3
Movie
Dragon Tidal: N/A
Appears in
Manga, Anime, Movies
Personal
Birthdate
May 26, 1960
Gender
Male
Age
Classification
Affiliation
Ranking
C Rank
Academy Grad. Age
14

Tribe/Clan

Yatayo Tribe
Background Information
Edit
Write the first section of your page here.
Personality
Edit
Write the second section of your page here.
Appearance
Edit
Abilities
Edit
Clan Heritage
Edit
Major Battles
Edit
List of Techniques
Edit
Dragon Tidal
Technique
Season
Episode
Status
16 Slice Blade
Season 1
Episode 9
Jubitzu
Relationships
Edit
Ad blocker interference detected!
Wikia is a free-to-use site that makes money from advertising. We have a modified experience for viewers using ad blockers

Wikia is not accessible if you've made further modifications. Remove the custom ad blocker rule(s) and the page will load as expected.